Continuous & 360 Feedback
Make feedback

easy to give & receive!
Use our feedback tools to make giving and receiving feedback easier and more actionable. With our tools and coaching tips, you can not only improve manager/employee feedback but you can even enable customer feedback to build stronger teams, improving performance overall.
Real-Time,

Continuous Feedback



Ongoing, regularly provided feedback is an essential practice to keeping employees engaged. Sprigg's Continuous Feedback features enable users to give or get, real-time feedback instantly!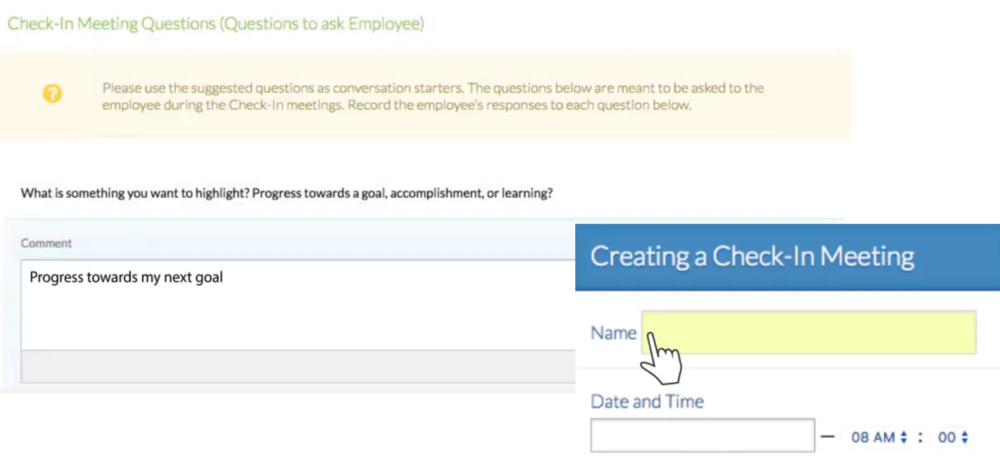 Easy, Seamless

Check-In Meetings
Regular touch-points with real-time feedback is easily accomplished through Sprigg's Check-In Meetings Tool. Through meeting tool templates and calendar integration, your feedback meetings are made seamless.
Multi-Rater / 360 Degree

Feedback Options
Schedule and take notes during your 1-on-1 meetings with Sprigg so all your conversations are captured. Regular 1-on-1 meetings and conversations make performance simpler.
Make use of our

Tips, Training & Feedback Banks
Formulating feedback can be tough. Sprigg gives you Tips and Training Guidelines on how to give and get quality feedback.
Whether you're giving feedback or creating your own self-evaluation, Sprigg's Feedback Banks provide thought-starters and suggestions instantly!
Real-time feedback & regular touch-points meetings!
Goal Setting
Manage Goal Setting through our standard Goal Format with Writing Assistant tools that help the user draft their goals.
Competencies
Measure the relevant Skills, Knowledge and Behaviours; assign them position-specific, globally or cluster them by group.
Performance Review Templates
Create a Review experience that identifies and measures the relevant metrics for the appropriate job (e.g. Sales role vs. IT role).
Ratings
Manage the ratings by customizing your preferences; use your own terminology, identify the rating system that best suits you. Or even turn them OFF!
Values
Support your company's culture, or culture change, by measuring values. Identify how well someone is demonstrating the values of your company.
Leader Review and Meeting Tools
Leaders are assisted throughout the Evaluation process with critical employee data made instantly available. They can also utilize the Check-In Meetings tool to schedule weekly 1:1s.
We would love to introduce you to Sprigg. Hit the "Request a Demo" button and we'll customize a demo just for you, led by one of our senior HR professionals. We look forward to connecting!